New coach pushes bulldog football to success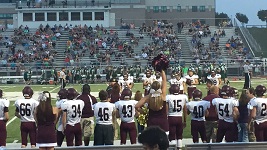 The Big Spring football team is planning on having a fresh start this season with a new quarterback, a new coach, and possibly a new tradition on Fridays where the fall sports teams stand outside the commons and high five the students as they enter the building in an effort to raise school spirit. Junior quarterback Jaret Petty said, "I felt that high five Friday was a positive and upbeat start to the day." Senior football player Derek Sweger said that he thought it was different but it got everyone excited for the game that night. The idea for this new event came from principal Bill August and was shared to the head coaches for each team, as each team will have a turn to high five students on the various Fridays this fall.
New coach Cory Hoffman has big plans for this years football team. When asked his opinions on this season, Hoffman said, "I think we'll be competitive and really surprise the Big Spring community. I think the fans will be excited about football for the first time in a while." Hoffman is not the only one with this positive outlook on the season. Petty said, "I'm very excited for this season. We're just going to take it week by week and hopefully reach our goal of making it to the playoffs." This would be the first time since 2009 that the football team will have made it past regular season play if this goal is achieved. Sweger also said, "I want as many people as possible to support us at every game, especially the Boiling Springs and LBJ game." Sweger and Petty both said that they thought Hoffman is the right coach for the team and that he brings a family atmosphere to the team. The team won their first game against West Perry 21-7, the Boiling Springs and LBJ games will be on Sept 18 and Oct 16.