Spring yearbook to arrive before the year's end
Coming next spring, Big Spring High School will be switching to a spring yearbook to allow students, especially seniors, to get their yearbooks signed and will have the ability to purchase a supplement which includes end of the year events such as spring sports, the musical, prom, powderpuff, and graduation. As the new yearbook adviser, Christa Daugherty said that before she came to Big Spring, all she ever knew was a spring yearbook. "I can't imagine not having people sign it. It was the highlight of getting my yearbook," said Daugherty. Although a spring yearbook was talked about in previous years, this is the first year it is actually going to happen. Many students may think that just because the yearbook will be done before the end of the school year that end of the year of events will be cut out. Daugherty assures that is not the case. "An extra supplement will be available after the book is done for a cost of around $8, although it is optional. All end of the year events will be included in the supplement," said Daugherty.
Allowing students to get their yearbook signed isn't the only reason for the switch to a spring yearbook. "Our yearbook representative has told us that schools that offer a spring yearbook often see a 10% increase in sales," said Daugherty. Students are more willing to buy a yearbook before the end of school year due to the fact that all the events are still fresh in their minds. Peyton Ramp, yearbook staff member, said, "I think it will be really nice to wrap up the end of the year with a book in our hands. Being able to get classmates to sign your book, especially for seniors, will also be a nice thing to have and look back at. In past years, the book didn't come till the following year because we are unable to include graduation, prom, and spring sports." Last year and in previous years students haven't received their yearbooks until early fall, usually October. At that time it is hard to contact alumni in regards of the yearbook arriving.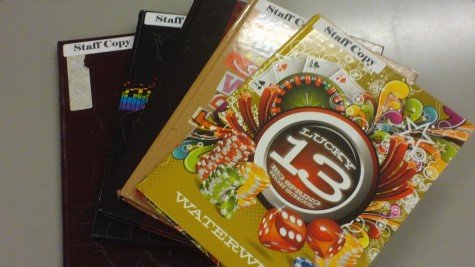 Students and staff that have heard the news are on board with the spring yearbook. Steve Smith and Bill August, both recent principals, believe this change is going to be beneficial to both students and staff. Madison Gutshall, member of the yearbook staff, said, "I think it's a great way to get people to sign your yearbook at the end of the year. It really doesn't mean a lot to kids now, but when we're 40-50 it'll be awesome to see what people wrote in them." The plan for completing the yearbook before the end of the school year is to just cut off the events that fall after the March deadline. Not only will the yearbook be in full color on glossy pages, there will also be an additional 18 pages included. Sales will start earlier than usual to accommodate the spring schedule.