Homecoming game means facing Northern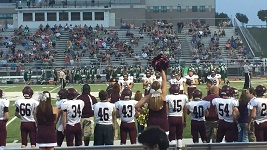 Homecoming is coming up this Saturday, with the annual homecoming football game and the Bulldog players believe they have a chance against a good Northern team. "It's going to be a tough fought game." said Elwood Yohe, a sophomore, lineman on Big Spring High school's varsity football team. "It's not going to be easy though." adds senior Toby Peck, who's also a lineman on the varsity team.
Both agree that they're prepared for the game Friday night, as is the entire team. Peck said, "During team practice, we look pretty solid so I'd say the team is prepared." Hunter Adams, Junior, and also a lineman of the varsity team, said, "I believe the team is well prepared. We worked hard all week and I believe we can come away with a win."
Since the game is also a pink out, the student section along with the players will be wearing pink. Peck said, "I'm wearing pink to the game." And Adams said,"I will be wearing a ton of pink in honor of my Aunt being a breast cancer survivor!" This week's pink out represents breast cancer awareness, and October is the month for this cause.
When talking about the game, freshman fan Ashley Shuemaker said, "I think we're gonna beat em!" Shuemaker predicts the final score of 20-7. Junior High football manager and freshman, Chloe Hayslett said "If the boys try hard like they did last time then we have a chance of winning." Hayslett predicts the final game score of 26-15. Junior, Jake Kraly said, "I think that we're going to win!" Kraly predicts the game to be close.
Whatever the outcome, the game takes place at the Big Spring High School Stadium Friday at 7PM.