Shakespeare Troupe acts out scary scenes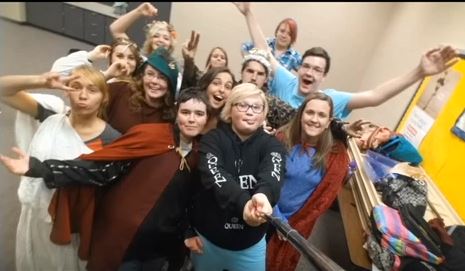 The originally planned Shakespeare Troupe performance set for Halloween night, for "night of murder, suicides, ghosts, and witches" has been rescheduled. They will now be performing in the large group room on Saturday. Shakespeare Troupe is made up of a bunch of talented students from Big Spring high school, including Aija Snook-Himes, Jesse Wise, Gabrielle Trayler, Devin Eshelman, Kaylee Szczypta, Kianna Burkholder, Sam Keen, Keirstyn Ruth, Jade Uilkema, Josh Jenkins, Hannah Nori, and Kirsten Houseman.
They'll be reciting famous Shakespearean monologues from "Hamlet", "Macbeth", "King Lear", and many more. There are possibilities of hearing lines like "to be or not to be…" from "Hamlet." Or, even hearing lines from "Romeo and Juliet" like "what greater punishment is there than life when you've lost everything that made it worth living." These are only a few of the many, many, many works Shakespeare made in his time. According to funtrivia.com, Shakespeare wrote 38 plays total, 154 Sonnets, 6 other long poems in his lifetime.
Club advisor Robert Hankes said "Shakespeare Troupe is still going strong in it's 29th year." With tons of new freshman starting out in Shakespeare Troupe this year there's sure to be a new surprise in the show.  "It's great that a number of freshman came out this year." Hankes said. Troupe member, Snook-Himes said, "It's going to be great!" Sam Keen said, "It's going to be a very good performance and we've all worked hard on it; it's going to be great! But it'd be great to have more than 50 people because then they get to move into the auditorium for the performance."