Alumni move from Mini-THON to THON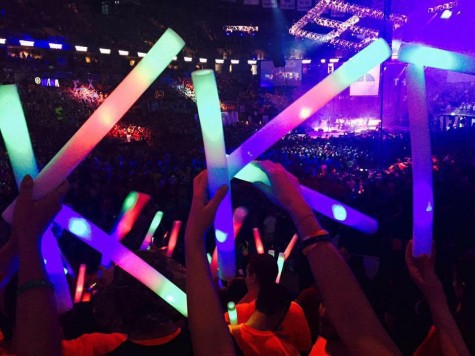 Photo credits: Kayley Luszik and Alex Bauer
Many Big Spring students go on to pursue their college majors at Penn State University, but few of those graduates go to main campus and attend THON. THON is a 46 hour dance marathon at the Bryce Jordan Center that has a purpose of raising money for the Four Diamonds Foundation and providing emotional support to children and their families battling pediatric cancer.
According to their official website, this year Penn State's THON had well over 15,200 participants and raised almost $10 million. Two Big Spring alumni who now currently attend college at Penn State University's main campus, Kayley Luszik (graduate of 2013) and Logan Miko (graduate of 2012) both visited THON this year.
Luszik has attended all three THON's that have happened while she has been at PSU, and this year she was a chair for her sorority which meant she was one of the people in charge of planning fundraising events and anything THON related. "My favorite part of ThON is the final four hours when families who have lost their children to pediatric cancer tell their stories. It's also when families who have children who had beat pediatric cancer tell their stories." Luszik said, "It reminds us why we are truly at the BJC during that weekend."
"It's the most emotional part of THON and everyone is holding onto each other crying. The entire Penn State community is leaning amongst one another and it's so beautiful to be apart of. Then the last hour of THON is upbeat." Luszik said. She was there for 42/46 hours, taking four hours to go rest her feet at her apartment and shower. However, she did not sleep.
Miko agreed with the final four hours being his favorite part of THON. "It goes to show how much of a difference we are making in people's lives, and it makes it worth it." Miko said. Unlike Luszik, Miko was only a spectator at this year's THON. He said that he was able to watch everything he wanted to see, and was able to give others the pump up they needed. He was there for 28/46 hours.
Luszik and Miko also came to a conclusion that they would both love to go again. Miko reported he had been to all four years of THON for all four years he had been at PSU and stayed awake for more than 24 hours each time. Luszik said she had been to three years of THON for all three years she's been at PSU. "100 million times I would do it again!" Luszik said, "Every year I do it, it's the best experience of my life." Miko said similarly, "It's an incredible experience and I would recommend everyone to attend THON at least once in one point of their life."
"It's very challenging to stay awake," Luszik admitted, "I just had to keep convincing myself I wasn't tired and I kept reminding myself why I was there. I was always on my feet and on the floor, participating in water gun battles with the kids and doing crafts."
"It helps when you are there with friends who you can talk to or play little games with. Also, even just walking around the Bryce Jordan Center helps wake you up and get your blood flowing. Trying to find other friends that are scattered around to say hi and see how they are doing helps as well," Miko said.
Luszik hopes next year to be an official dancer, meaning she will be on the floor of the BJC indefinitely for 46 hours straight- no sitting or sleeping! Miko will be graduating this summer and starting a job in Philadelphia.
Current Big Spring freshman, Hannah Hess, went to Penn State's THON this year as well. Hess attended THON this year with her sister Kimberly Hess. Kimberly beat cancer, currently age 24, and their whole family attended THON. Kimberly was treated at Hershey Hospital and is a part of the Four Diamonds Foundation. At THON, the two sisters participated in many events and one of the events included the Variety Show where the families have a chance to show off their talents to a crowd of more than 15,000 people. Hess and her sister sang "Fight Song" by Rachel Platten. They also participated in an event called Kids Mail Call where the THON child and their siblings receive letters of encouragement.
"My favorite part about THON would either be singing in the Variety Show or or seeing the total reveal of how much money is raised each year." Hess said. "It's breathtaking to see how many people come out to support such a great cause." Hess and her sister attended THON on Saturday and Sunday.
Since they were not considered dancers, they were able to go back to their hotel each night and get some sleep before returning the next day. "I would definitely go to THON again. This was actually my 8th year going and it is still super fun. I don't plan on stopping anytime soon." Hess said.

At THON, Hess was able to meet Devon Werkheiser who played Ned in the Nickelodeon T.V. show, Ned's Declassified School Survival Guide. Hess also met Devon Still, a Penn State alumni who is a professional football player who plays for the Houston Texans. His daughter has cancer, so his family and him attend THON every year.
Big Spring High school hosts its own Mini-THON every other year, and will take place next year in the month of March.