Cabaret makes a splash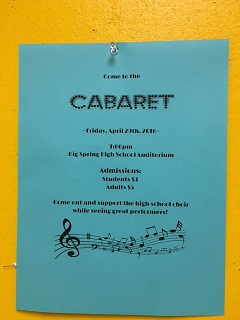 Starting last year, an event called the 'Cabaret' was held at the end of April as a fundraiser for Big Spring High School's Concert Choir. A cabaret is a talent show of sorts, but there is no competition or winner. Last year, Senior Star Snyder and Morgan Vallie were the fuel behind the fire, brainstorming the idea of a cabaret and setting it into motion.
But this year, the cabaret is under new management and is predicted to be even better than before. Three junior girls make up what is called the 'Cabaret committee': Jessica Teter, Jenna Brobst, and Morgan Barr. They have been meeting since the end of last school year, and have big ideas for this year's show. "It is going to take a lot of hard work, but in the end, it's going to be worth it." said Teter.
Preparations for this year's show include holding sign ups, creating forms for performers, holding informational meetings, arranging practice times and much, much more. Brobst said, "Our goal is to have around 15-20 acts perform this year, and really just make it a big thing that will carry on even after we [the juniors] leave." The committee officially reached their goal this week, as 15 different acts are signed up to perform at this year's Cabaret. Acts range from singing and dancing to instrumental quintets and quartets.
Practices for Cabaret are scheduled to start on April 14- two hours after school, every day until performance day. In order to make sure everything runs smoothly, weekly committee meetings are held, and commitment forms are signed to ensure no issues, and no last minute drop outs or no shows. "Last year we had several people skip practice, and two people not show up to perform, so this year we created the commitment form to make sure that doesn't happen again." said Teter.
The Cabaret will be held on April 29 in the high school auditorium.