Dancing with the Starts features new, interesting cast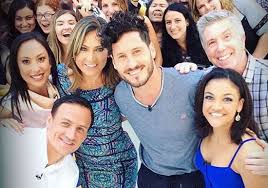 Dancing With the Stars is a national TV show that consists of 12 dancing pros and 12 famous stars that get paired up and dance their way and hoping to win the Mirrorball Trophy. 
Some of the most talked about cast members this season are pro dancers Derek Hough, Maks and Val Chmerkovskiy, and Cheryl Burke, as well as stars, Laurie Hernandez (gold medal gymnast), Amber Rose (Singer), Vanilla Ice (Singer), Terra Jole (Actor), Jake T. Austin (Actor), and the audience can't forget about Ryan Lochte (Olympic Swimmer).  They will get to see if he is able to fix his reputation after the misinformation he reported at the Olympics.
Emma Monismith, freshmen, said, "I'm more excited about the professional dancers than the stars.  I'm ecstatic Derek is back! I'm also excited that Jenna is going to be a pro for the first time."  Star-wise she is most excited to see Hernandez, Austin, and Jole. "I'm Definitely excited to watch this season."
Taylor Hutchinson, sophomore, said, "I think this year's cast is great. As usual you've got the old guy, football player, the singer, and the young popular ones."  She said she is most excited to watch Laurie and Val. Ashley Oldham, teacher, said that she watches the show because, "It allows me to relax and take my mind off all my stress" and that "I am always impressed by those who can perform a skill that I cannot." Many people may share Oldham's opinion about this season's cast. "I feel like some of them are barely celebrities and a bit of a reach.  I am disappointed that they invited Ryan Lochte but am quite excited about a few others."  She said she is most excited to see Hough with an "older/less athletic partner" and to "watch Chmerkosvskiy and Hernandez win every week."
Dancing With the Stars starts tonight on ABC.