Spanish teachers prepare for trip to Spain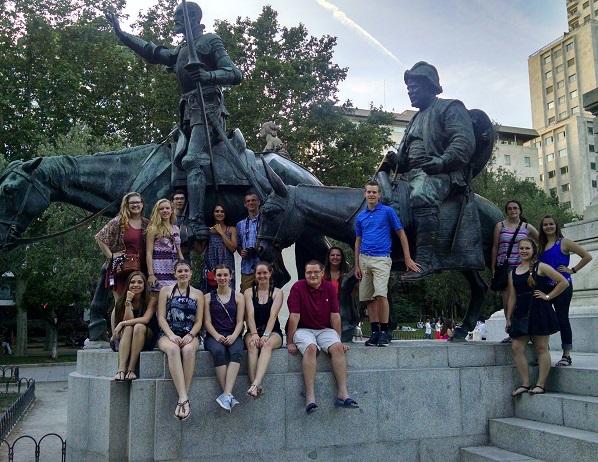 The trip to Spain in June of 2018 is welcoming students who have completed at least two levels of Spanish to the many popular places throughout Spain. Ashley Oldham, Laura Fritz, and Megan Anderson will be accompanying the students and helping them prepare for the trip along with encouraging the students to take a potential once in a lifetime opportunity.
"This year we are switching up our trip from last summer." said Fritz, who also described the agenda of this coming trip. Students will depart from the United States and arrive in Sevilla. The ten day trip will consist of traveling to Granada, Madrid, Segovia, and taking the AVE train to get to Barcelona. "Every single minute of the trip, we are doing something." said Fritz. This helps the students get an even bigger grasp on the culture in Spain and to make the most of it while they are there. Students who previously went on the trip have had stories to share, more confidence, and more knowledge about the Spanish language and culture. "It was neat to be able to physically see the things that you hear and talk about throughout Spanish classes." said Alec Moul, a student who went on the Spain trip this summer. Bailey Lehman also said, "It was a great experience with the culture and you got to try a lot of things that you normally wouldn't."
One of the biggest things to remember while considering this trip is, "to not let fear get in the way." Anderson talks about how students will turn away from this opportunity because of being fearful about traveling far away from the comforts of home. Although she ensures that this trip through the school is much safer, and that everything is already planned out for the students. Anderson said, "The Senoras always take care of the students as if they were their own kids."
Oldham, Fritz, and Anderson all highly encourage any student who is interested or even unsure about the trip, to attend the meeting on Oct. 20. The meeting will be filled with information about the trip that a student and a parent can decide if it is something they are able and want to do. If the student decides that they are interested, it is suggested that they sign up no later than December to get a discounted price off the trip. The total cost of this trip will be approximately $5000.
Throughout this year and next, there will be meetings to help the students be more prepared for the trip. Oldham tells the students who are going on the trip to, "know that you are traveling abroad and not only are you representing Big Spring, but also the United States of America."