Teachers prepare for costume contest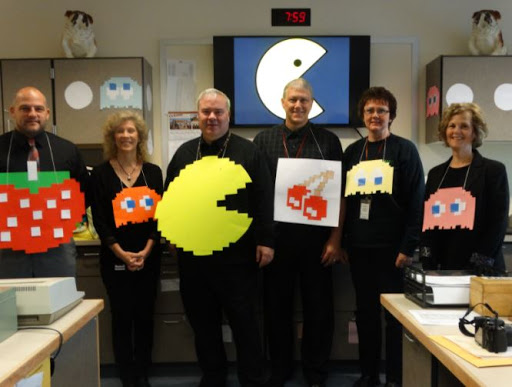 Cody Jones, Reporter
October 15, 2018
Hang on for a minute...we're trying to find some more stories you might like.
As the fall season approaches, with colder days and nights starting to roll in, teachers at Big Spring High School put on their thinking caps to think of a costume. The staff is excited to get spooky this year. The BSHS Teacher Halloween Costume Contest is on Halloween during the school day. Teachers will dress up by themselves or in a duo. One teacher who plans on participating is Chad Feeser, English and theater teacher. He said, "I want to do my own thing." Teachers from past years have done Waldo, a Nun, Jake From State Farm and many more creative outfits. Feeser also said, "I have not yet decided on what my costume will be. Even if I try to make it scary, it will most likely end up as funny."
This costume contest is in its second year. Angela Schneider, Club C.A.R.E Adviser, is the one who started the tradition last year. "I had friends at Shippensburg who had a costume contest every year. I took this idea and asked Bill August, principal, if we could have something like this and he said sure. Club C.A.R.E added it as an activity that the staff does."
Students are going to be able to get involved this year. "Students are advised to wear Halloween socks and they can earn points for their color in color wars," Schneider said. She participated last year and dressed up as a scuba diver. Schneider will be participating this year but has yet to think of an outfit. Her favorite costume of last year's contest was the High School Office Administrators. They made the office look like a Pacman board and played real-life Pacman during lunch. When asked who will have the best costume, Schneider said, "I'm hoping the administrators can beat their Pacman costume from last year." Another costume that she enjoyed was Bed, Bath, and Beyond, done by Rebecca Herendeen, Lauren Hetrick, and Emily Young.
The social committee is hosting a luncheon for teachers so they can all see each other in their costumes. A new addition this year to the awards is categories. There will be four categories to give out: scary, creative, gross, and funny. Club C.A.R.E is only giving out one of each badge. Students can vote who had the best costume of all the teachers on Paw Print.. The teacher with the most votes will win the trophy for the year. Last year's winner was Michelle Paris, who dressed up as a Halloween bucket and handed out candy.