Dress code lacks fairness for student body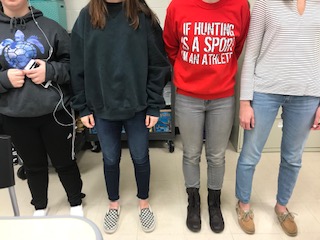 It's Monday morning, and Sally knows exactly what she's wearing. She picked the perfect outfit to wear to school. She's wearing an off the shoulder shirt with some high waisted skinny jeans.
Sally has seen other girls wearing an outfit similar to her and she wanted to try it out for herself. Sally walks into school and is confident about her outfit. She is in her second period and gets pulled out of class.
Sally got dress coded for her shoulders showing, but the girls in the class wearing crop tops and short shorts didn't get pulled out of class for breaking the dress code. If the school dress codes one person, it is only fair to dress code everyone breaking these rules. Big Spring has had numerous amounts of students breaking the dress code in past years. 
In Big Spring's student handbook it states, "Inappropriate Dress includes: Clothing with cleavage, tops with spaghetti straps, racerback tank tops,  low-cut tank tops, basketball jerseys, sleepwear, and shorts and skirts that are too short. Students who wear their athletic or program uniforms for school events or activities must still abide by the dress policy." If this is in the dress code policy, then why can the field hockey team wear their racerback tank tops if it doesn't abide by the dress policy? It specifically states in the dress policy that they must follow the policy.
Another argument can be that if the school dress codes a girl for her shoulders, they should be dress coding all the girls who are showing their cleavage. The dress code enforcers look more for the shoulders and short shorts.
They don't realize that it's not fair to dress code them, but not dress code someone wearing their fuzzy pajama pants to school. Guys around Big Spring High School wear muscle shirts and cut-off t-shirts, and when they were asked if they got dress coded they said no. If the enforcers don't dress code the boys for their shirts, why dress code the girls for their shirts?
One solution for this problem is to have more enforcers going around checking for dress code violators. If you enforce the dress code on every then the dress code must be followed by everyone.
An easy solution is to just go with an extremely strict dress code. They can enforce that everyone must wear khaki or non-ripped jeans, and a plain t-shirt unless it is Big Spring apparel.
Another easy solution would be to just get rid of the dress code completely. It may not sound like a good idea to most schools, but it is the easiest way to keep everything equal between the student body.
To provide fairness of dress code enforcement in the student body a change needs to be made.