Swim coaches switch for 2018-19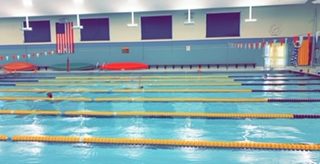 As swim season is starting up there are new coaches, new swimmers, and much more to be thinking about. Swim coach, Coach Les Stover retired at the end of the season last year.  There was also the retirement of Ronnie Stover, she had an important role on the swim team. She kept scores during meets and prepared the team for the meets as they were approaching.
Greg Walker, was an assistant coach last season. He wrote workouts for the team as well as prepared and made the team more confident before the meets. He often had many words of encouragement for the swimmers last season, he would always make sure the team was ready for the meet and ready to swim.  
Walker is the head coach for this season, he has already sent his words of encouragement and is striving for the team to work hard and achieve its full potential. He recently had to stop coaching due to a head injury. He has been resting and healing since the injury. He is now back. Walker's hopes for the season are, "to get every swimmer to reach their highest potential and to see more and more swimmers succeed in the postseason."
Since the injury of Walker and the retirement of the Stovers, there has been an abundance of new coaches coming in to help out.  The new coach, who is now one of the assistant coaches is Christie Katora. Katora is arranging workouts, prepping the team for meets, and giving lots of encouragement to the team members. Katora's hopes for this season are, "in the big picture it would be great to win the division, and it would be great for everyone to have consistently good swims. To PR, and to just have fun."
Dive coach, Rick Sample retired this past year as well. The new coaches are Zach Stout and Lauren Livingston. They are coaches for Big Spring and Carlisle's' Dive Team.
Zach is an ex-diver who went to Big Spring and graduated in 2008. He was a state alternate diver. His goals for the team this year are," everyone on the dive team  to compete in a dual meet as well as to have everyone doing better then they did in the past."
Livingston, was a head swim and dive coach at a prestigious Country Club. Her goals for the team this season are ," for everyone to have all 6 dives and to improve in technique and work on being more polished."
Overall the coaches goals for this season are for all divers ans swimmer to improve themselves to be better, and push themselves to work hard to achieve that goal.