Music department proud of another winter concert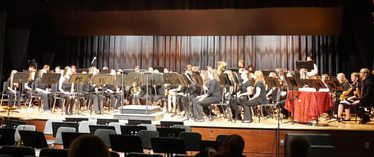 The Big Spring High School music program held its winter concert on Dec. 17 in the high school's auditorium showcasing the program's band members, choir, and cantabile. The Big Spring music program gives students countless opportunities to help improve their music education. Plus, it gives students a place to meet new people and to develop those relationships throughout high school. The band has been described countless times by Big Spring students as one big family who experience the good and bad times together. For most of the students in this program, there is more time spent after school in the music wing than at their house.  This program has provided a music education, friendships, mentors, and developed futures. Edward Wilson, the choir teacher at Big Spring High School, also believes that the music program does a lot and has a positive impact on the high school. Wilson said, "I believe the Christmas concert is a big deal because it brings such great energy once it actually comes together."
The winter concert is a combined concert with the band, choir, and Cantabile (our auditioned choir group).   Along with two combined pieces, A Christmas Festival, and Hallelujah Chorus, each group has about three songs each.  The winter concert brought around 400 spectators, which may have been a record turnout for a regular concert for Big Spring. Wilson said, "There were people there who didn't have kids performing yet still attended. So, we just tried to liven the place up with music." The winter concert is a different and festive way to welcome the Christmas spirit. Jay Ni, senior at Big Spring said, "I think that the biggest highlight of the concert was our  performance of "Twas the Night Before Christmas," where Kevin Roberts, assistant superintendent, narrated the story with his children on the stage." While the winter concert provided students with music like "Adeste Fidelis" and a special 'Twas the Night Before Christmas," the concert's music was not the easiest for the students to apply. Freshman, Logan Magee said, "The high school music project is much harder than the middle school program with different meters and much faster tempos." Along with Roberts, superintendent, Richard Fry stopped by to give a reading of 'Twas the Night Before Christmas with his children to accompany the music. The choir performed music like,  "A White Winter Hymnal" from Pentatonix, "Winter Song" from Sara Bareilles, "A Road Not Taken," and "I Wonder as I Wander." " I Wonder as I Wander" is the annual solo piece for the winter concert and is tradition, just as Hallelujah Chorus is a combined tradition and has been so for 3 years. Cantabile will be singing only one song at the event, "Sing Joyfully".
With new freshmen involved in the Big Spring High School music program, there are always different results to expect. However, for freshman Logan Magee, things couldn't be better, Magee said, "The Big Spring music program has made my first year in high school easier because I have gone through marching band and band camp with friends that I've made." Freshman tend to always do well with adapting to the program at the high school. Ni said, "Our high school program is quite different from the middle school program because it allows for more freedom to develop personally as musicians and also to reach for higher goals such as district band and other festivals." The upperclassmen in the program tend to take very good care of incoming freshman. Wilson said, "A lot of the juniors and seniors have led a really good example. These are the best student leaders I have had. They've really taken the freshmen under  their wings." Seemingly, it's easier for the freshman to move to the high school music program than the high school itself. This is most likely partially due to the family atmosphere, and welcoming directors at the high school.
Seniors, Jay Ni, and Grace Patterson are two music students who think of Big Spring's music program as home. Ni served as the leader of the marching band and the drum major his sophomore year. In three years, he helped to shape the program to what it is today. Ni said, "I am very excited to see how this legacy will continue to grow and achieve. I will always try to make it back to the concerts and competitions to watch the program grow." At Big Spring Ni has taught and lead our students through countless shows. He has also auditioned and participated in both district band and county band in the 2017, 2018, and 2019 festivals. In college, Ni plans to join concert, jazz, and marching ensembles. Ni said, "I am very excited to be able to participate in these ensembles and to meet new people that share the same love of making music."
For Grace Patterson, another music student who finds herself being the happiest in the music room, she had the opportunity to audition for several festivals. Auditioning and preparing for these auditions has taken place for the last 3 years. Patterson served as Choir President this year and Marching Band Section Leader.  Patterson said, "I'm not looking forward to the end of my high school music career. I will continue to pursue music throughout my life." In college, Patterson will go through a double major of music education, clarinet performance, and a vocal minor. At this point, probably ending up at West Chester or Mansfield University. Patterson said, "If it hadn't been for the mentoring of my music teachers here over the last four years, I would not have found this path. The opportunities that I have been given this year are plentiful." In February, Patterson will be participating in the district choir, as well as the county chorus concert.
   The winter concert is not all the music program has to offer for this year. On Feb. 1, there will be a small ensemble for anyone within the music department who wants to do a solo or be apart of small group work. In addition, on Feb. 14, there will be a combined band and choir ensemble. Plus, in March, Big Spring will be hosting the jazz festival. Lastly, in May, the choir and band will have separate concerts for the end of the year. Wilson said, "The concert in May is probably my favorite concert because that's when we say goodbye to the seniors, which is always touching." Big Spring's music program has many plans for the future as it has made a tremendous impact on student lives in Big Spring.