High school honors POW/MIA at football game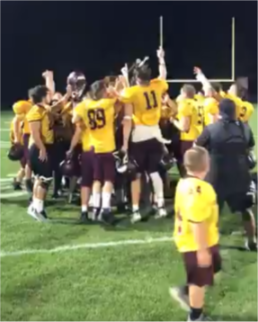 Sept. 20 is POW/MIA Recognition Day, so Big Spring is hosting a football game that will feature a helicopter landing on the field and a gold star mother doing the coin toss. TEMPUS Club, which stands for Time Eventually Makes People Understand Society, is volunteering to help with this event by handing out flags, providing the MC, and canning for money. 
Every third Friday of September is now a day to recognize prisoners of war (POW) and those missing in action (MIA) since 1979. According to Military.com over 80,000 service members are still considered missing in action. 
To celebrate the 40th anniversary of this event in the home game against Waynesboro High School, Big Spring High will be handing out American Flags, have a helicopter land, and have a gold star mother do the coin toss to start the game. The mother will be honoring her son who was a former Big Spring graduate and played on the Big Spring football team. Bill August, principal, said that every football game has a theme, and this is a good time to recognize service members especially since it is Big Spring's first home game since September 11. 
TEMPUS Club will doing the MC, handing out American flags, and canning during this event. Two thousand American Flags were donated to Big Spring. Scott Anderson, adviser for TEMPUS, thought that the club could also raise money by canning to help offset the price for the veterans flying and landing the helicopter. "This is a good time to honor veterans," said Anderson. "Most people only think about veterans on two days, Memorial Day and Veterans Day." Anderson also adds that we should be honoring veterans every day, not just on designated holidays.