Student council fights to prevent suicide through this year's winter ball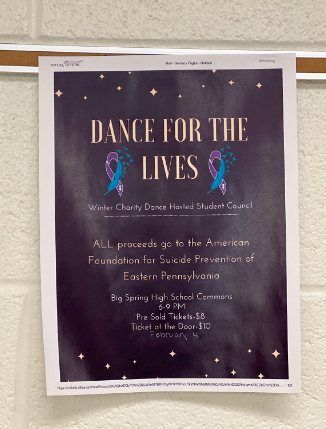 The Student Council committee is planning to hold Big Spring's first post-covid winter ball on Saturday, Feb 4. The ball will be held in the commons at the high school from 6-9PM.
Many years have passed since the Student Council committee hosted a winter dance for the high school; however, this year, the ball has been resurrected with a whole new purpose. The focus of this year's winter ball, called Dance for the Lives, is to raise money for suicide prevention, while bringing students together.
The Big Spring student body has been impacted by suicide in the past. Student Council President, Aliyah March, said, "Multiple people said that they weren't interested in coming to dances like homecoming, because there is no specific point to them. But, our school has been directly impacted by the effects of suicide, so I think that with knowing that this dance is funding suicide prevention, people in our community will want to come to the dance."
In recent years, our school has become more preventative when it comes to suicide. Jocelyn Kraus, a high school counselor, said, "Suicide is the second leading cause of death in adolescents, and this is mainly due to a lack of access to care. Our district has done very well with being preventative, and I think the key to suicide prevention is really just prevention."
Staff at the high school have been trained in this area, both with video lessons and a technique known as QPR (Question, Persuade, Refer). Kraus said, "Staff have become more equipped in how to manage if a student reports something, or if they are concerned about a student." Data in this area is also collected from the Terrace Metrics Survey given twice a year.
Profits made from the school dance will go to the American Foundation for Suicide Prevention of Eastern Pennsylvania. According to their website, they focus, "on eliminating the loss of life from suicide by: delivering innovative prevention programs, educating the public about risk factors and warning signs, raising funds for suicide research and programs, and reaching out to those individuals who have lost someone to suicide." According to Samantha Bruno, Contact for the AFSP, this organization has raised over $28.6 million in funding for suicide prevention.
To help in this fight, pre-sold tickets for Big Spring's Winter ball will cost $8, and tickets at the door will cost $10.
If you or someone you know has suicidal ideations, please dial the number 988 for help.