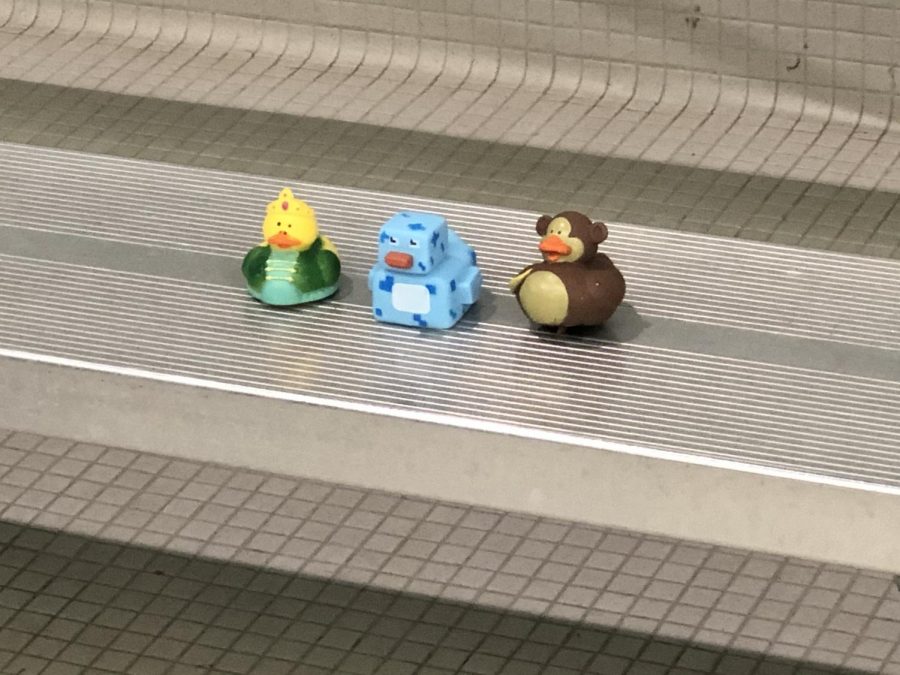 The time has come again, for the annual, Club C.A.R.E. Nutquacker Suite, and like every time around this year, they race ducks in the pool and have a competition. Angela Schneider is one of the advisors of the club which hosts the duck race. "This came about over ten years ago when Club C.A.R.E Members, Ashton Rathgeber and Jodi Heishman, talked about having a duck race in the school for charity. They were thrilled about coming up with the name of the race."
This year's race was neck in neck before declaring the top 3. Club C.A.R.E members are at one side of the pool making waves with paddle boards to push the ducks to the other side of the pool. It is $1 to purchase a duck and extra $1 to keep it. The first three ducks win cash. The money from the people buying the ducks goes to a charity of choice.
Everett Baker, co-president of Club C.A.R.E. said, "We all sold a lot of ducks, but right now we don't know how much we have. That will be checked at the end of the race. We all started selling around the second week of October and we've been trying to sell as many ducks as we can." Club C.A.R.E puts a lot of work into putting on this duck race, by going around and asking people if they want to buy a duck and by getting the pool for one flex to be held in. "There are thirty  club care members, who are put into teams of four. It is very competitive to see which team can sell the most." Schneider said. 
The year, the winners were Dylan Markham, first; Ethan Cunningham, second; and Kyle Haupt, third.