Showcase brings light to student activities
After low attendance numbers over the past few years for parent/teacher conferences, administrators at the high school decided a new format is in order.  Tomorrow night, high school teachers and students will host their first ever exhibition hour from 5-6, and will feature performances by the Tri-M Music Honor Society, displays by the Business Incubator Class members, showcases by the art department, and presentations by the Honors American Studies Class.
Small group music performances by select members of the concert choir and concert band will be held in conjunction with new member induction to the music honor society.  "It's a great opportunity to work across multiple subject areas." said band director, Adam Nobile.
As for the Business Incubator Class, they will be represented by members of the group, Red, White, and You, who created a American-styled t-shirt designs.  Their products were designed "Shark Tank-Style", where they researched suppliers, competitors, printing companies, and more.  A portion of their proceeds are donated to military charities.
Student artwork will be on display in the large group room, mostly from the AP studio course and the Advanced Photography class, along with a chance to meet these inspired student artists.  Megan Stambaugh, a senior art student, said, "I would like community members, teachers, and family to see the hard work I have put in this semester."  The school also offers drawing and painting courses.
Tim Kireta is a social studies teacher who, as part of his administrative internship, helped come up with the idea of the Exhibition Hour.  His Honors American Studies class will be presenting their oral history projects; these are interactive projects which center around primary sources, especially student conversations with locals living in the local retirement home, Greenridge Village.  He said, "It's been enlightening just to see from a student perspective, what they have gained from this experience, and they have an opportunity to actually show their work to the public."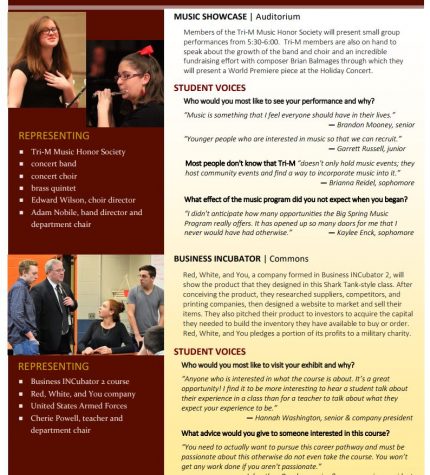 Video Class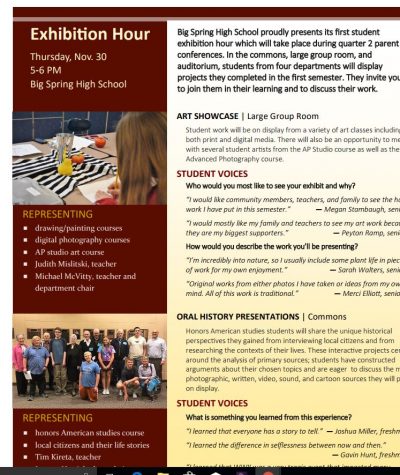 Video Class