Bulldog alumnus soars over homecoming game
Recently, Big Spring alumnus, Nate Shuey had an experience that doesn't come easy to most. In pursuit of a longtime goal, he was one of the three pilots who got the opportunity to fly over the Penn State Beaver Stadium, at the homecoming game versus Rutgers. 
LT Nate Shuey graduated with honors from Big Spring HS in 2006.   He began college at the Altoona Campus of PSU, and played two seasons on their men's D-3 soccer team. He recently made his way back from a 7- month deployment aboard the USS George H.W. Bush (CVN 77) in support of Operation Inherent Resolve. 
In his junior year of college, the Naval ROTC granted him a 3-yr Engineering scholarship as he transferred to the University Park Campus.  He graduated with a degree in Nuclear Engineering and was commissioned as an officer in the US Navy, heading to Pensacola, Florida for flight training said Sue Shuey, his mother and formal choral teacher at Big Spring High School.
Because of all his hard work, he was able to take his training even further, by going to Florida to Enid, Oklahoma, and to Meridian, Mississippi.
Sue Shuey said, "During training, he was selected to fly the strike fighter jet  the F-18C Hornet.  He earned his "Wings of Gold" and began training at NAS Oceana in Virginia Beach. Upon completion and carrier qualifications, he was patched to the Ragin' Bulls VFA-37 squadron for a term of three years.  During this time LT Shuey received his LSO (Landing Signal Officer) designation, to facilitate safe landings on the Aircraft Carrier."
The flyover took on greater significance as it occurred on Veterans Day and Military Recognition Day.  LT Shuey, along with LT Michael Webb, LT Alex Fletcher, and LCDR Mike Tremel were recognized on the football field during a third-quarter time-out.
To add, Shuey had ports of call in Greece, Israel, Great Britain, Bahrain and Dubai.  He landed in Oman, Iraq, Cypress and visited Scotland all during his 7-month deployment. Plus, before he flew over Beaver Stadium, he got engaged. He saw a Formula-one race in Bahrain,  a soccer match in Great Britain, and rode a camel & ate camel, which he claimed "tastes like roast beef" in Dubai.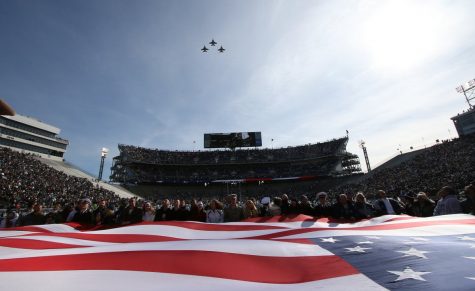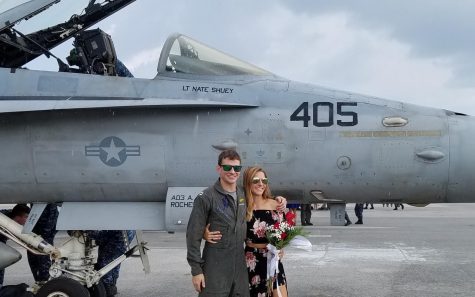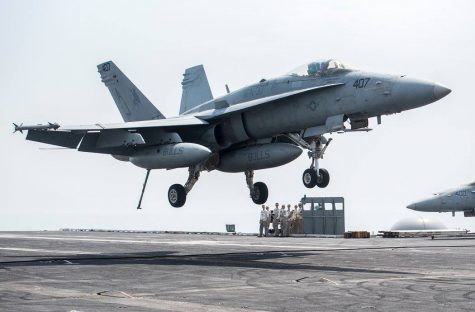 (U.S. Navy photo by Mass Communication Specialist 3rd Class Christopher Gaines/Released)